Apprentice Diaries – Kian Barrett
Kian Barrett joined the Moortown team as an Apprentice Engineer in August 2021, working on a live project at Carlton Hill Student Accommodation in Leeds. He's currently in his second year attending a Level 4 Civil engineering course at Leeds College of Building.
Read on to hear Kian's thoughts!
Why does this vocation appeal to you?
I wanted an opportunity to learn the trade and be able to earn a wage at the same time. My family have always worked in construction, and it has given me the confidence to go into the trade myself. I have heard a lot of positive feedback from various people working in this industry and this has inspired me to pursue a career in engineering. When I discovered Moortown Group offered apprenticeships I didn't waste any time and rang them up to see if they were taking on any new apprentices. It wasn't long till I attended an interview and started work soon after that.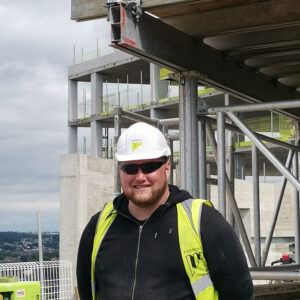 What is the work culture like?
"The work culture is great, I like it a lot here. We have a great set of lads on site and the work is done to a high standard."
"I enjoy having the ability to set work out for the workers on site. This gives you a huge boost when you come to work, knowing that you are part of the team that has been chosen to complete the work."
"I enjoy learning new things, and an apprenticeship definitely gives me the opportunity to do so."
What skills have you learnt? 
Firstly, I was setting out at the start of my apprenticeship which I picked up quite quickly. This was using EDM technology. As I got a few weeks in, there was an opportunity to learn how to set out rotating lasers for different levels. This was hard at first as it is a bit complicated to get your head around, but I am pleased I am continuing to expand my skillset.
What are your future aspirations?
I really hope I get the top grades at College so I can improve my future prospects.
I hope to progress into a Site Engineer role.
Maybe one day I'll be able to pass on my knowledge in this role to someone younger than me and help them pursue a career in construction.
We look forward to following up on Kian's progress on his apprenticeship journey.